In this Writer's Journal, you will have the opportunity to practice and hone your observational skills. To that end, select one of the photographs of a bedroom in Mollison's "Where Children Sleep." As you explore your chosen photograph please do the following:

Write down everything you can observe in as much detail as possible. What do you see? Describe the objects, colors, shapes, arrangement. (These will be notes, so they don't need to be polished writing.)




Do NOT make judgments. Do NOT try to analyze why things are the way they are. Your only job is to try and describe what you see in as much detail as possible. Reflection and analysis happen later.

​Tzvika's bedroom has three beds with blue bed sheets, and they open up like drawers, forming a kind of stairs that lead to the higher bed. On the right side of the room, a picture of an oasis into a desert is hung up on a green wall. On the left, the whole wall is covered by a combination of long white closets and blue drawers. The white tiles of the pavement have the same color as the ceiling.
Powered by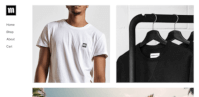 Create your own unique website with customizable templates.