What role has writing played in your life? Describe your relationship to writing and language.

I had the impression that I am not the kind of a "writer" person. Reflecting for this journal, though, I remembered that since I learned how to write, I was always writing something. Poems, short stories, journals, content for a "newspaper" we had created as kids, letters to penpals, e-mails, blog and social media posts and academic papers. As a foreign language learner, writing has not been one of my favorite activities.

How would you describe your previous writing experiences, overall? Whether good or bad, in what ways have your writing experiences prepared you for, or led you to, this course?

My prior writing experiences have been positive in general, and even if I don't get excited to write in my native language, Greek, or in the foreign languages I speak, I usually manage to be creative and convey my message. Moreover, the experience I have so far as a Graduate student, my profession as an Italian language teacher and my overall journey as a lifelong learner, met in perfect timing, before my other courses begin.

What do you hope to do with writing in the future? How might you draw upon prior writing experiences in order to achieve those goals? What do you need to practice in order to be a more successful writer?

In the future, I hope to apply the knowledge and the skills that I expect to obtain during this course, to my academic writing, to enhance my marketing skills, to create meaningful content for my students and perhaps be motivated to start writing personal journals. I believe that understanding the power of some skills and habits of mind is a great motivator for practice and development.

What do you hope to gain from this writing course and its members? What are your expectations for yourself in this course? What are your expectations for the other members of the course?

Through this course, I hope to gain not only knowledge but also experience that will help me write better papers in the graduate school, describe better my services to prospective students, and reinvent my relationship with writing. Furthermore, I expect to develop new habits of mind that will help me redefine myself as a writer, for example, being more reflective and critically thinking. As for the other of the course, I look forward to exchanging opinions, perspectives and helping each other to become a successful writer.
Powered by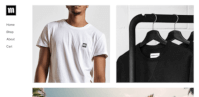 Create your own unique website with customizable templates.