Describe a time when you encountered a new cultural experience, i.e. eating a new food for the first time, participating in a different holiday celebration, learning a new way to greet someone, etc.

When I was 23 years old, I decided to learn Hebrew, and along with the language I learned many things about the Jewish culture. Celebrating Hanukkah in Greece, going to the Synagogue for Pesach and visiting the Jewish School of Athens for Purim were unique experiences.
Powered by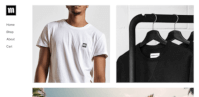 Create your own unique website with customizable templates.